Management for Moms Bundle
5
/5 (
3
reviews)
List Price: $ 28.94
Sale Price: $ 14.99
You Save: $ 13.95 (48%)
Want advice from a mom who has walked the trail ahead of you?
Moms have full plates. Homeschool moms have full platters.
Keeping up the housework when your little messmakers are home all day is a challenge.
Relational and discipline issues come to the surface when you are together all day, every day.
Finances are often strained in SILKS families (Single Income, Lots of Kids)
And what about traveling, hosting family gatherings, and all of the other expectations?
The Management for Moms series was written just for you. Marcia shares hard-earned insights learned while homeschooling five boys for nineteen years. Filled with encouragement, humor, and practical strategies, you will find answers for many of your most perplexing questions, all presented through a Biblical worldview.
Each downloadable book is available separately, but the bundle is a much better deal, plus we'll throw in a free copy of Mommy Tips: Strategies for Survival when you buy the whole series.
You get all six ebooks (over 300 pages!) plus Mommy Tips
for $14.99, a $28.94 value!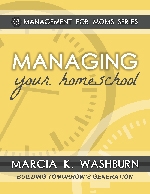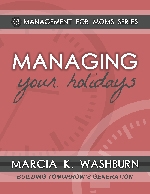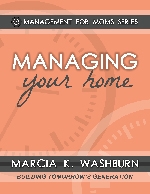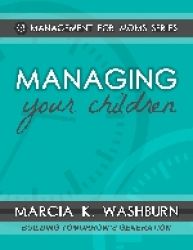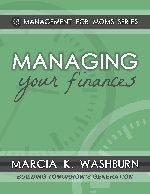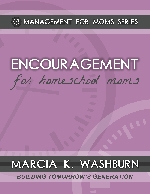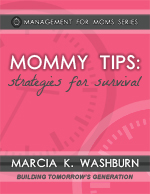 Practical wisdom from one who loves Jesus
Management for Moms Bundle
By: Cindy Puhek
Titus 2 tells the older women to instruct the younger women on how to love their husbands and their children and how to keep their homes. I hear a resounding cry throughout the church asking, "Where are the older women?" Many younger women still trying to figure out how to run a household, raise their children, and home school would love to have a more experienced mom come alongside them to show them how to juggle all these important tasks and to warn them about potholes and pitfalls along the way. Marcia Washburn understands this need and has written a series of e-books called the Management for Moms series to help train these younger women. As a veteran home schooling mom and entrepreneur who brought up 5 sons, Marcia has a wealth of wisdom to share with those in the midst of the incredible journey of motherhood. Marcia shares very practical tips, and I never read her writing without gaining several suggestions I implement right away. While the reader gains much practical wisdom reading Marcia writings, much more is gained also. I always feel encouraged by Marcia's obvious love for Jesus, for her children, for her husband, and for her home. This love is woven through all the practical suggestions, and helps keep the reader focused on doing everything as unto the Lord. I've learned a lot from Marcia, and I hope this invaluable resource will find its way into the homes of scores of women. All will benefit from the continuing education they will receive through Marcia Washburn's Management for Moms series.
Thankful for Marcia's wise counsel
Management for Moms Bundle
By: Hope Jackson
I love my family to pieces but I fail in many areas when it comes to managing the home. This is a book that I wish was in soft cover. I would have highlights and notes scribbled everywhere! ~ In fact, I plan to send this ebook over to an office supply store to print and bind. I have no doubt that a happy, economical, and well-run home will be the result if even a fraction of her advice and tips are followed. Marcia is uplifting and encouraging as she shares her secrets to making a home run smoothly. I am thankful for the wise counsel Marcia has shared through Managing the Home. I am also excited and hopeful about implementing more of her practical tips in my own home.
Australian mum weighs in
Management for Moms Bundle
By: Kerry Alexander
I'm reading "Managing Your Home" which I recently bought in the Build Your Bundle sale. I'm an Australian homeschool mum with six kids aged 5 months to 12 years. House work is not my forte. I just wanted to thank you, because I've never read anything about home management that matches my experience. Other things I've read say things like "I lingered over my housework because it was more interesting and fulfilling than my book-writing" (you've got to be kidding) or "Now look, I really totally LOVE housework..." (you've got to be kidding) or "The best way to manage your life is to fill out this timetable which starts at 4am and finishes at midnight" (you've got to be kidding). It's really helpful to read something and say "Ah, me too. There's someone out there who gets it". You can take advice so much better from someone who shares a similar outlook/experience.
Categories